Conference Tourism
* There are only 40 reserved participants until full
* The free trip is only for an author, if the other authors want to participate, then they need to pay
the additional fee NTD 1000 / USD 35.
* Please email to IMETI if you want to reserve the seats. (imeti2018@imeti.org and imeti2018@gmail.com)
Nov. 02 Half day Trip
12:00 Departure from South Garden Hotels & Resorts
13:15 ~ 16:15 Back Cihu
16:45 ~ 17:45 Daxi Old Street
18:45 Back to South Garden Hotels & Resorts
About tourist attraction in Taoyuan, please refer to the Taoyuan Travel Online(website).
Back Cihu
After the military ban was lifted, the mysterious Back Cihu finally unveiled its unspoiled beauty; it is now open to the public. Back Cihu is a small lake along which President Chiang Kai-Shek would stroll or row a boat with the late first lady Chiang. After entering Back Cihu Park from the side gate of Front Cihu Park, tourists will start a 2-kilometer walk over a small hill. In addition to the fascinating scenery along the trail, the commander's office, bunkers, checkpoint gates, and offices left from the Era of Martial Law are definitely worth visiting.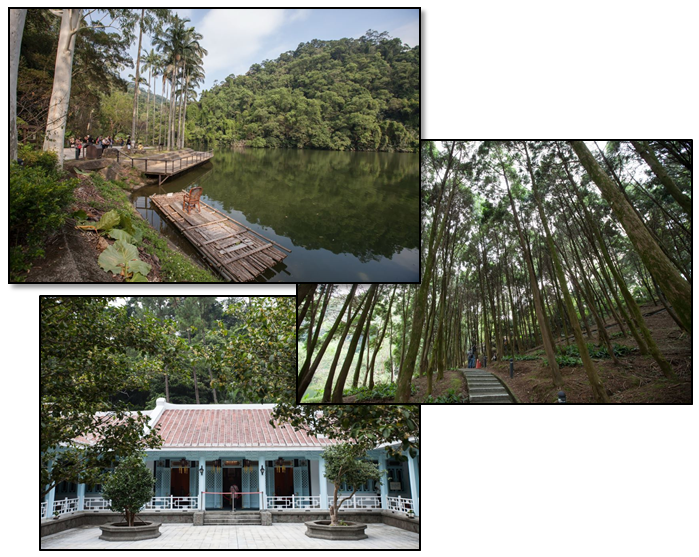 Daxi Old Street
Daxi was the earliest developed area in Taoyuan. Thanks to small sailboats sailing between Dahan Creek and Tamsui River, Daxi had a thriving trade with China, and its prosperity brought success to many stores and businessmen. During the Japanese occupation period of the Taisho era, Baroque architecture was the popular building style and therefore many stores along Heping Road and Zhongshan Road were built in the Baroque style, but decorated with both Baroque ornamentation and characteristic totems of Min-nan in Southern China. On the facade of some old houses, auspicious Chinese fish and bat totems appear on Greek lintels or Roman columns, constituting a unique feature of Daxi. Because Heping Old Street was developed relatively later, the buildings in this area are better preserved. Specialty shops and food stands on the street always attract many tourists.
Source of the materials from Taoyuan Travel